Mission Statement
Eastern Deaf Timberfest strives to preserve and stimulate cultural values of the Deaf community by providing affordable, educational, and outdoor recreational activities and social events in a safe, clean, and inviting environment through sound organizational leadership and management practices. EDT encourages people to open their minds and hearts to inspire personal growth, community integration, and enhanced awareness of the natural environment.
2013 Youth/Family Camp –
Yogi Bear's Jellystones Park Camp-Resort at Hagerstown, Maryland
* Rollover the photo above to pause the sildeshow
The Story of Eastern Deaf Timberfest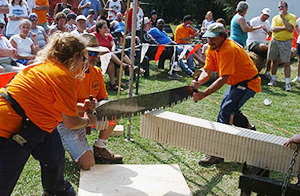 Timberfest in 2004
This story is given by the co-founders Bruce Hubbard and Ron Markel of how the EDT was formed.
After Bruce flew to Oregon for 10th Annual World Deaf Timberfest during 1991 Labor Day Weekend, he met Ron Markel during one of the Interstate Association of the Deaf (IAD) Dingo Night and Bruce talked about timberfest there that he learned a lot and wanted to have our own one since he knew that Ron is working for his own business of lumber. Ron did talk about to establish one because he had been gone to watch hearing professional lumberjack once in a while. Ron did discuss with Barry Jones who worked with him about having our own one.
After Ron's family, the Markel families, Barry Jones' family, Bruce's family, and some of IAD friends attended to the 2nd annual Northeast Deaf Timberfest during 1993 July 4th weekend, we decided to establish our own one. It was a good enough that Ron found a place in Carlisle, PA. Ron and Bruce called a special meeting with IAD officers and members.
We decided to have our own timberfest called EASTERN DEAF TIMBERFEST. The officers for two years term were slated Ron Markel, President; Barry Jones, Vice President; Bruce Hubbard, Secretary and Larry Adkins, Treasurer. The co-founders were Bruce, Ron, Barry, Larry, Sean Markel, Allen Markel, Ben Markel, Jim Markel and few other co-founders.
Bruce Hubbard and Sean Markel went to see Pennsylvania Senator, Harris Wofford, at his Senate Office Building in Washington, DC and asked him if he can get the flag for EASTERN DEAF TIMBERFEST. Two weeks later we met him and he presented us a certification letter with the Flag of the United States of America that was flown over the U.S. Capital on May 10, 1994. This U.S. flag was flown for EASTERN DEAF TIMBERFEST. We agreed to have this flag every timberfest. Today you can see our United States Flag on the top of our EDT's trailer.
Our first annual EASTERN DEAF TIMBERFEST was hosted by IAD at The Western Village Campground in Carlisle, PA during the 1994 Memorial Day Weekend and it was turned out a huge successful with 2,010 people coming. That U.S. flag was flown along with four other flags (MD, VA, PA and WV) to represent IAD. Our committees worked so hard to make our first timberfest success with the bless of Ron's family including his four brothers and but not only to them, IAD members, who involved with us, did superb job. Then the members of IAD decided to continue our annual timberfest.
read more

Timberfest Media Gallery
Timberfest 2012
at
Yogi Bears Jellystone Park - Mill Run, Pennsylvania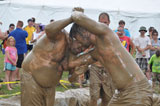 Video
Timberfest 2010
at
Spring Gulch Resort Campground - New Holland, Pennsylvania
Logging
Adult Activities
Children Activities
Entertainment
Booth
Motorcycle
John Maucere